The Reason Mortgage Rates Are Projected to Increase and What It Means for You
Posted by The Cartier Sanders Team on Tuesday, February 16, 2021 at 12:00 PM
By The Cartier Sanders Team / February 16, 2021
Comment
Originally Published on Keeping Current Matters
We're currently experiencing historically low mortgage rates. Over the last fifty years, the average on a Freddie Mac 30-year fixed-rate mortgage has been 7.76%. Today, that rate is 2.81%. Flocks of homebuyers have been taking advantage of these remarkably low rates over the last twelve months. However, there's no guarantee rates will remain this low much longer.
Whenever we try to forecast mortgage rates, we should consider the advice of Mark Fleming, Chief Economist at First American:

Many things impact mortgage rates. The economy, inflation, and Fed policy, just to name a few. That makes forecasting rates difficult. However, there's one metric that has held up over the last fifty years – the relationship between mortgage rates and the 10-year treasury rate. Here's a graph detailing this relationship since Freddie Mac started keeping mortgage rate records in 1972:
There's no denying the close relationship between the two. Over the last five decades, there's been an average 1.7-point spread between these two rates. It's this long-term relationship that has some forecasters projecting an increase in mortgage rates as we move throughout the year. This is based on the recent surge in the 10-year treasury rate shown here: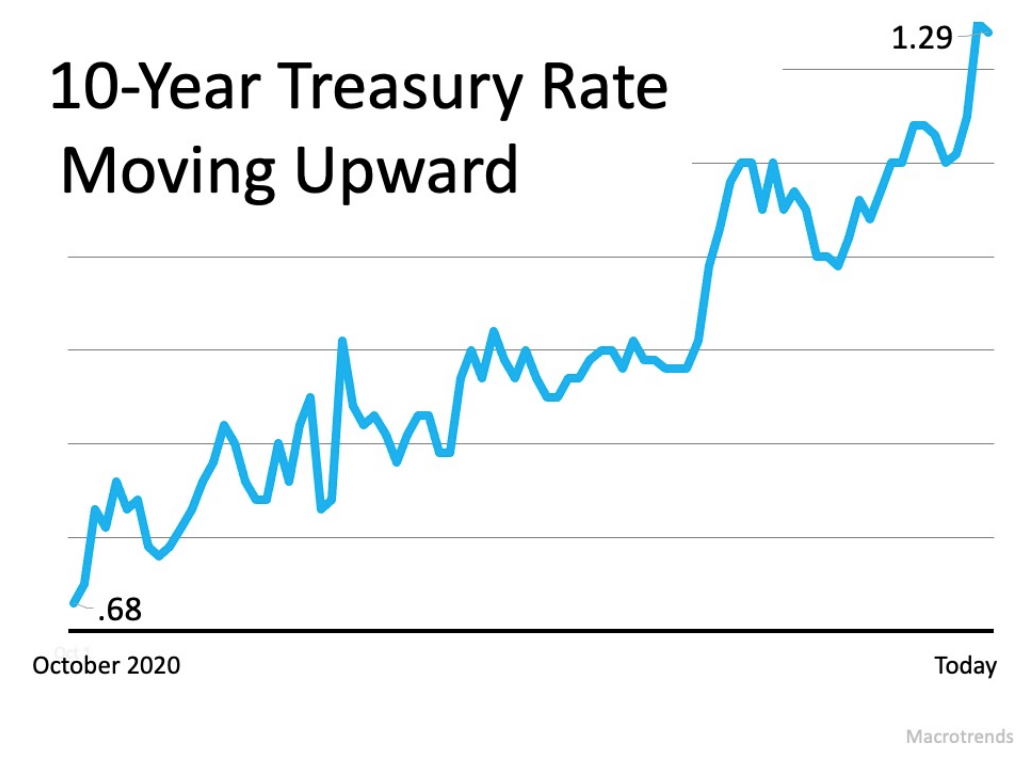 The spread between the two is now 1.53, indicating mortgage rates could rise. Actually, a bump-up in rate has already begun. As Joel Kan, Associate VP of Economic Forecasting for the Mortgage Bankers Association, reveals:

How high might they go in 2021?
No one knows for sure. Sam Khater, Chief Economist for Freddie Mac, recently suggested:

What does this mean for you?
Whether you're a first-time buyer or you've purchased a home before, even an increase of half a point in mortgage rate (2.81 to 3.31%) makes a big difference. On a $300,000 mortgage, that difference (including principal and interest) is $82 a month, $984 a year, or a total of $29,520 over the life of the home loan.
Bottom Line
Based on the 50-year symbiotic relationship between treasury rates and mortgage rates, it appears mortgage rates could be headed up this year. It may make sense to buy now rather than wait.